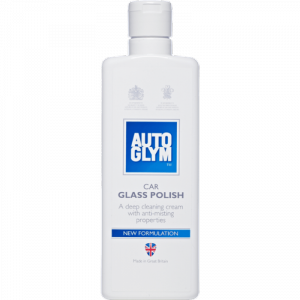 Autoglym Glass Polish
Description:

325mL
Suitable for inside and outside of glass
Removes water marks, tree sap oil, grease & bird droppings from glass without marking or scratching
Smear free finish
Code:
AGCGP325
Product Description:
As Autoglym's premium glass product, this cream delivers a deep and powerful clean and crystal clear vision. Removing all foreign matter from the glass without scratching, the Car Glass Polish provides a high-gloss finish with anti-fogging properties and a pleasant fragrance. For plastics, acrylics, or perspex, use Fast Glass instead.
Instructions: Pour onto a microfibre cloth and distribute evenly across the glass, allowing to dry to an opaque haze for five minutes before buffing clear with an Autoglym Hi-Tech Finishing Cloth.
Related Products