CARTAR FL C100 MOBILE LIFT
Description:

The Cartar 'C-100' Lift Range
Code:
CARTAR.M
Product Description: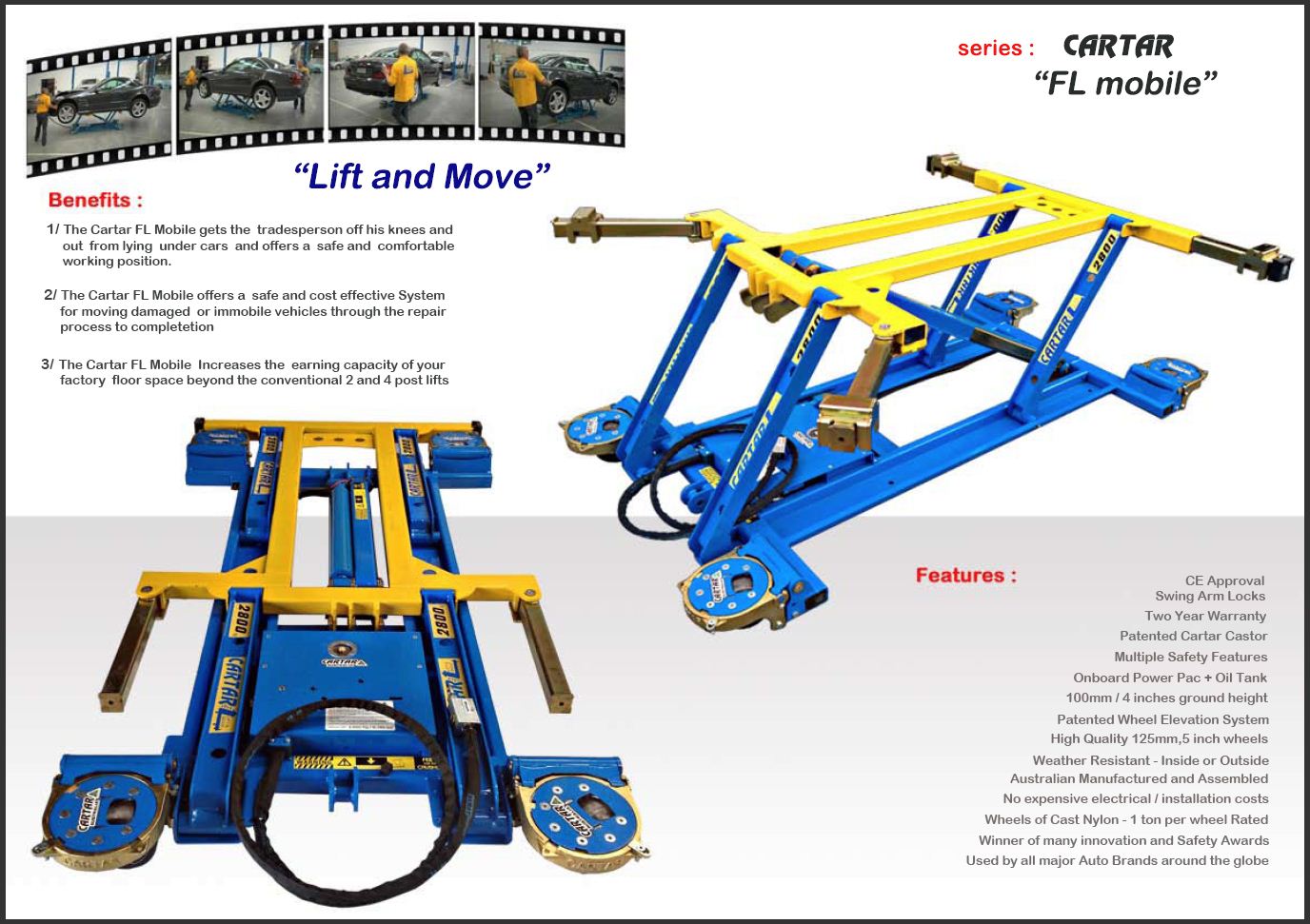 Cartar Front Loading Mobile Hoist
Front Loading Mobile Hoist
This is the new generation of Mobile Car lifts for the modern workshop and Auto Body Shops.
Because time is Money, Lift and move your damaged cars easily and safely through your workshop. Powered by Air/hyd, no electrics, use inside or outside.
The Cartar FL Mobile lift is the first truly mobile hoist that allows you to elevate a damaged car from ground height and move that car and lift safely around your workshop. There are many lifts that are portable, but once the car is elevated, they become a static fixture. Only the Cartar Mobile Lift is truly mobile.
Three reasons why you should have a Cartar Mobile Lift:
Get the tradesmen off the cold concrete and into a comfortable working position
Provide a system for moving the damaged cars around your workshop in a safe and cost effective way. From the start of repair with the quotation, to the final stage of leaving the spray booth and being assembled, the Cartar Mobile lift will carry the job
Replace a couple of your conventional lifts with a Cartar Mobile lift or a Cartar Econo Lift and open up your workshop Floor
Cartar FL Mobile Video
Great space saver. Totally Australian made. Quality built for long life.

IMPROVE WORK-FLOW INCREASE PROFIT