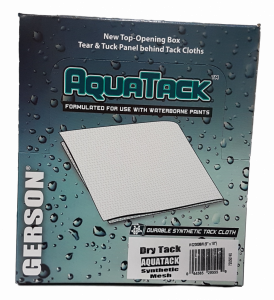 Gerson Waterborne Aquatack Rags
Description:

Approved by leading Paint, Auto, Marie, Aerospace and Elecytronics manufacturers
Code:
TRWATER
Product Description:
Aquatack
Approved by leading Paint, Auto, Marine, Aerospace and Electronics manufacturers.
Synthetic hydro-entangled fibers and locked together for superior, durable and tear resistant fabric.

Apertured to pick up and hold particulates

Completely removes surface particulates without leaving harmful residue.

Wax and Silicone-free

Designed for Waterborne; compatible with all paints.