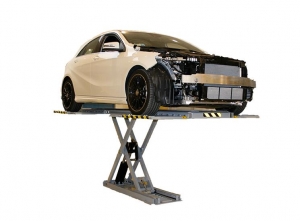 SPANESI MULTIBENCH
Description:

MultiBench and MiniBench Maxi Plus are not encumbering benches and allow great performances, speed, practicality and universality. The vehicle positioning on these small benches is rapid and practical.
Code:
SPANESIMB
Product Description:
MULTIBENCH
MultiBench is an electrohydraulic lift suitable for lifting any type of motor vehicle, with a maximum capacity of 3,000kg. The vehicle is raised direclty onto its wheels. You can straighten vehicles through 360° by the pulling column and the supplied hose clamps to be inserted without trolleys and without lifting the vehicle from the ramps. Possiblity of applying the measurements system TOUCH, transforming MultiBench in a convenient station for diagnosis and repair. Wide is the range of optional equipment.
MINIBENCH MAXI PLUS
It is a bench for pulling and quick repairing, but with high lifting capacity, 3,000kg. It can be used for all the working phases, it is available with ELECTROHYDRAULIC version.
You can apply Electronic Measuring System Touch to both benches.