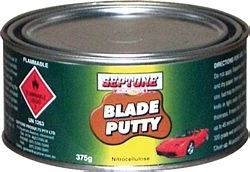 Septone Blade Putty 375g
Description:

Septone Blade Putty is a heavy bodied single pack nitrocellulose based putty for automotive and industrial use. Suitable for use under acrylic paints. It is designed to fill scratches and minor indentations and smooth out surface flaws in vehicle bodywork
Code:
KPBP375
Product Description:
Septone Blade Putty is a heavy bodied single pack nitrocellulose based putty for automotive and industrial use. Suitable for use under acrylic paints. It is designed to fill scratches and minor indentations and smooth out surface flaws in vehicle bodywork. It exhibits excellent adhesion and featheredging whilst sanding; and it is compatible with Septone Primer Surfacer or Primer Filler. Septone Blade Putty is supplied ready for use, and is applied using a glazing knife or plastic putty bat.
THIS PRODUCT CAN NOT BE SHIPPED VIA AUSTRALIA POST DUE TO BEING CLASSIFIED AS DANGEROUS GOODS.
PLEASE CALL US FREE ON 1800 656 645 FOR ALTERNATIVE SHIPPING OPTIONS AND MORE PRODUCT INFORMATION, OR CLICK ON THE ENQUIRY BUTTON BELOW TO EMAIL US DIRECT. PLEASE SUPPLY YOUR POSTCODE AND STATE.
People Also Purchased :