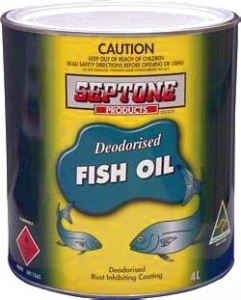 Septone Fish Oil - 4 litres
Description:

Septone Deodorised Fish Oil is a deodorised corrosion preventative designed to inhibit the formation of rust in internal box sections, door cavities, sills and pillars of motor vehicles, as well as on structural steel, railings, gates, bridges, pontoons a
Code:
FO4
Product Description:
Septone Deodorised Fish Oil is a deodorised corrosion preventative designed to inhibit the formation of rust in internal box sections, door cavities, sills and pillars of motor vehicles, as well as on structural steel, railings, gates, bridges, pontoons and for the protection of welds. Fish Oil has long been considered to be one of the most effective products for rust prevention. Fish Oil penetrates through rust to give the parent metal protection from further rusting. However, note that Fish Oil is not a rust converter. For badly rusted areas, apply a rust converter prior to applying Fish Oil.
THIS PRODUCT CAN NOT BE SHIPPED VIA AUSTRALIA POST DUE TO BEING CLASSIFIED AS DANGEROUS GOODS.
PLEASE CALL US FREE ON 1800 656 645 FOR ALTERNATIVE SHIPPING OPTIONS AND MORE PRODUCT INFORMATION, OR CLICK ON THE ENQUIRY BUTTON BELOW TO EMAIL US DIRECT. PLEASE SUPPLY YOUR POSTCODE AND STATE.