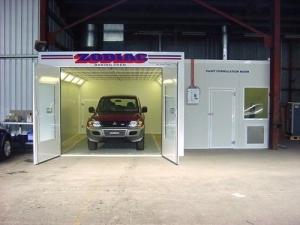 The 'ZODIAC' Full Downdraft Baking Oven
Description:

The Zodiac Full Downdraft Baking Oven is a premium quality baking oven which will give you the best possible painting conditions to achieve that prestige paint finish you have been chasing.
Code:
FDD
Product Description:
The Zodiac Full Downdraft Baking Oven is a premium quality baking oven which will give you the best possible painting conditions to achieve that prestige paint finish you have been chasing. Its super quiet operation allows you to install it next to an office if required. The Zodiac Oven can be installed as either an above ground unit with either internal or external ramps or as an in-ground installation.
SpraySafe (WA) will not 'cut corners' or remove features on this oven to cut the price. The Zodiac has gained an extremely good reputation over many years for it's quality and reliability, and this we refuse to jeopardise.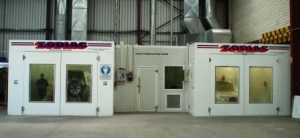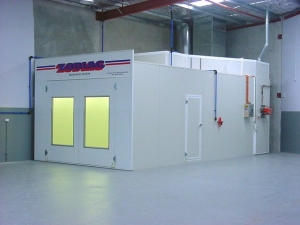 STANDARD FEATURES:
* Fully insulated construction
* Large front viewing windows with stainless steel trimmings
* Rubber "pinch weld" door rubber seals on all doors.
* Easy to use control panel.
* A separate recycle or baking facility, eliminating dust transfer to intake filters.
* Direct ducting of heat with insulated sandwich panel construction, minimises heat loss.
* Large capacity "Central feed intake duct" to evenly distribute intake air.
* Specially designed "Wedged" style concrete floor cut out for even exhausting of cabin area
* Full width roof filter, eliminates turbulence.
* Quality Viladon 560G inlet filters as standard
* Pre and post purge operation.
* Aerodynamically designed stainless steel heat exchanger, with fully welded seams.
* Option of rear or side mounted indirect fired heater system.
* Dual centrifugal inlet fans and single axial exhaust fan.
* Easy access exhaust filters.
* Single direct drive axial adjustable pitch exhaust fan.
* Extremely low maintenance requirements
* Attenuation to exhaust system.— optional
ZODIAC SPRAY BOOTHS AND BAKING OVENS CAN BE CUSTOM MADE TO SUIT YOUR INDIVIDUAL REQUIREMENTS.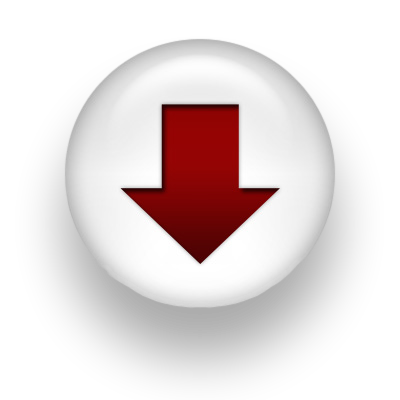 Related Products