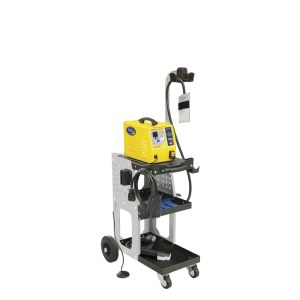 GYS HEAT INDUCTOR
Description:

The GYSDUCTION AUTO is a powerful instantaneous induction heater.
Code:
GYSHI
Product Description:
The GYSDUCTION AUTO is a powerful instantaneous induction heater. Ideal for car body repair, mechanics, and maintenance to:
- Remove all adhesives, logos, side moldings.
- Remove direct glazed windows without damaging the trim (rear window, rear quarter light, panoramic roof…).
- Remove stone guard protection and sealers.
- Release mechanical parts (bolts, screws, spark plug, injector…).
- Repair small dents on the car body without retouching the paint.

Features:
- Power: 2400W
- Safety: Instant heating without flame.
- Efficient: Only heats metal parts with accuracy whilst protecting the adjacent parts (no need to remove engine parts).
- Clean: Remove parts without using solvent.
- Flexible Voltage: Power supply from 100V to 265V.
- The device only starts if the metal is ferrous (not suitable for Aluminium or Copper).
- The device will then automatically adjust the heating to avoid damaging the part due to overheating.

Contact us today for help from our specialist with your next purchase.

Please note: We can only sell this item within Western Australia.