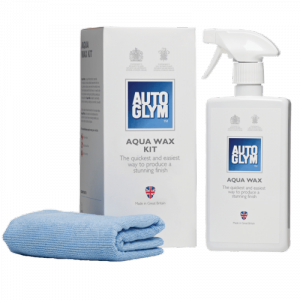 Autoglym Aqua Wax Kit
Description:

The Aqua Wax Kit is a simple and easy kit to use that allows you to wax your car while you dry it.
Code:
AGAWK500
Product Description:
The Aqua Wax Kit is a simple and easy kit to use that allows you to wax your car while you dry it. Producing a smear-free, high gloss finish, the wax kit can be used as a stand-alone product, but is primarily intended to help top-up the base layer of wax or sealant, which can wear down over time. Designed to allow you to quickly dry the vehicle and add to the protection of the bodywork at the same time, the Aqua Wax Kit is a great time-saving product for those that wash their cars on a regular basis. Containing real carnauba wax, it provides the protection of a hard wax, as well as helping water to bead from the bodywork. Suitable for all surfaces. The kit includes a 500ml bottle of Aqua Wax and two quality microfibre towels.
Instructions: After washing the vehicle with Autoglym Bodywork Shampoo Conditioner, and while the car is still wet, spray the Aqua Wax sparingly to the bodywork as you dry each surface. Work from the top, down.
Helpful Tips
Microfibre towels are far better at absorbing water once they have already been wet, so be sure to saturate the towel and wring it out before use. Be sure to only use around two to four sprays per panel, or you may find it hard to buff out.