Spray Booth - SPRAYSAFE (WA)
S&S Industries SpraySafe (WA) Offers High-Quality Custom Spray Painting and Baking ovens in Perth
For spray booths, Perth has no finer option than the custom solutions SpraySafe (WA) design and build at S&S Industries. With 33 years in the spray booth industry, we know what it takes to create the solutions that you need no matter how large or small your workshop is. Our SpraySafe division has won a number of different industry awards, and we supply many businesses around Western Australia, so their painting operations continue to run smoothly. Whether you need a basic open face spray painting booth for small items or a huge spray bake paint booth to handle large vehicles, we'll work with you to custom build each of our solutions to fit your needs. Client satisfaction is our number one goal, and we pride ourselves on creating the most professional paint spray booths Perth can buy.
Get the spray painting booth that's right for you!
ZODIAC SDD SPRAY BOOTH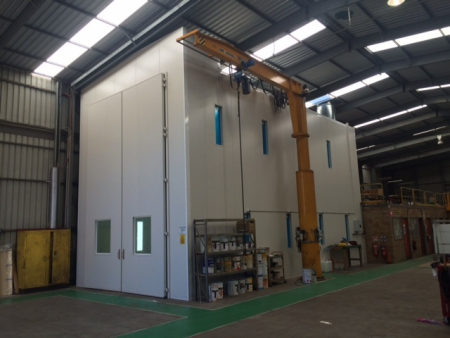 Painting booths are an absolute necessity for anyone who is in the spray painting industry. Our spray booths give you a clean and highly controlled environment that will allow you to paint small items up to large vehicles rapidly.
The bake then cures the paint quickly, allowing you to empty the booth and get your next paint job client in. For painters around Perth, this can be the key to improving your productivity.
ZODIAC FDD BOOTH
Using a booth allows you to keep any foreign debris from becoming stuck in the paint and ruining the job. Not only that, but you will also be able to accomplish more complex paint jobs in a booth. The Zodiac Spray Booths we create are durable, stylish, and extremely low maintenance. We can install these units as above ground units with ramps, or we can build you a dedicated spray painting station as an in ground unit.
With decades of experience, S&S Industries Spray Booth (WA) won't let you down
At S&S Industries SpraySafe (WA), we understand that purchasing one of our spray and bake booths is an investment for your company. You can buy from us with confidence knowing that we have provided many clients with our services. We encourage potential customers to contact owners of our products to verify our dedication to quality workmanship. If you wish to speak to someone about purchasing one of our Zodiac booths in the Perth area, please ring us on (08) 9274 6566 and speak to a member of our team. We are excited to work with you to create a great working space!
Spray booth filters need to be replaced regularly.  EXHAUST FILTER needs to be replaced between 2 - 6 weeks (ie. dependant on how many paint jobs go through the spray booth), INLET FILTER (roof filter) can be replaced yearly, just to keep on top of spray booth maintenance.
It is very important that you only fit the recommended filters to your SPRAY BOOTH. Fitting filters other than those specified may cause the booth to become unsafe and may affect performance and cleanliness. The range of SpraySafe (WA) filters have been selected for the their superior dust holding ability and long life. It is essential for the sake of quality and safety that you do not compromise on these filters in order to keep your booth functioning correctly.
Click on the link above for more information and specifications.
Contact for more details fabrication@spraysafewa.com.au