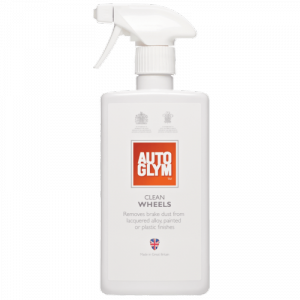 Autoglym Clean Wheels
Description:

Safe for lacquered alloy, painted, and plastic trims, this cleaner contains acids to quickly break-down the accumulation of brake dust and road grime from your wheels.
Code:
AGCW500
Product Description:
Safe for lacquered alloy, painted, and plastic trims, this cleaner contains acids to quickly break-down the accumulation of brake dust and road grime from your wheels. Although it is an extremely effective way of cleaning your alloy wheels, we only recommend acidic wheel cleaners manufactured by high-end detailing brands, such as Autoglym, due to the corrosive nature of the ingredients.
Instructions: Spray liberally on a wheel that is cool to the touch, and allow to sit for a maximum of one minute. Agitate hardened brake dust and grime, and rinse thoroughly. Clean only one wheel at a time.
Helpful Tips
Do not use on warm or hot wheels, in direct sunlight, or on unlacquered alloy, highly polished alloy, chrome, anodised finishes, split rims, cadmium plating, or stainless steel. If you're unsure, we recommend using Autoglym's Custom Wheel Cleaner.