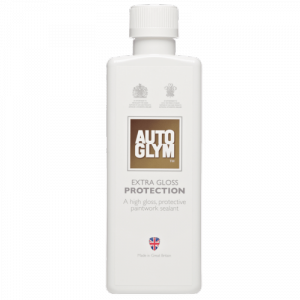 Autoglym Extra Gloss Protection
Description:

Designed to create a protective sealant over an already polished surface, this product does not enhance the appearance of a vehicle itself, but rather helps to maintain the gloss and keep contaminants from soiling the polish
Code:
AGEGP325
Product Description:
Designed to restore lackluster stainless steel and brushed aluminium (or any metal brightwork), the Metal Polish is easy to apply and provides a brilliant shine. The paste is slightly more abrasive than the liquid, and more suited to harsher applications like exhaust tips and intercooler piping. For chrome body highlights we recommend the Super Resin Polish.
Instructions: Simply apply to the metal surface and polish out with a fine cloth.
Helpful Tips
Re-apply when water no longer repels. No need to use a wax on the vehicle if using this product.