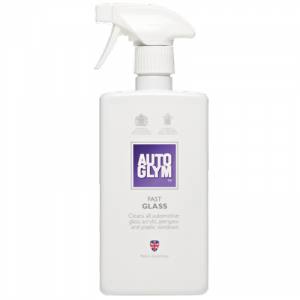 Autoglym Fast Glass
Description:

Sprayed directly onto either interior or exterior glass, Fast Glass is an easy solution to cleaning off insects, sap and nectar, bird and possum droppings, road grime, and other contaminates from your windscreen or mirrors.
Code:
AGFG500
Product Description:
Sprayed directly onto either interior or exterior glass, Fast Glass is an easy solution to cleaning off insects, sap and nectar, bird and possum droppings, road grime, and other contaminates from your windscreen or mirrors. Simply spray on and wipe off.
Instructions: Spray directly onto glass and polish with an absorbent paper towelling. For infotainment screens, spray onto a microfibre cloth instead.
Helpful Tips
Fast Glass can also be used to clean plastics, acrylics, perspex, and paintwork.