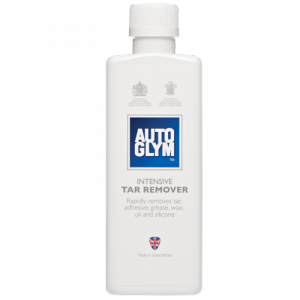 Autoglym Intensive Tar Remover
Description:

The ultimate in the removal of sticky contaminants, this product has been designed to clean your bodywork from road tar splatter that is typically found behind the wheel arches (and particularly common on Australian cars during the warmer months).
Code:
AGTR325
Product Description:
The ultimate in the removal of sticky contaminants, this product has been designed to clean your bodywork from road tar splatter that is typically found behind the wheel arches (and particularly common on Australian cars during the warmer months). It can also be used to remove sticker or decal residue, fuel stains, possum droppings, fruit or flower remnants, and tree sap. It's useful on the interior to remove chewing gum, ink and oil stains, and glue residue from carpets, seats, and hard vinyl surfaces.
Instructions: After washing the vehicle, add the Intensive Tar Remover onto a clean cotton cloth and apply to the affected area. Leave for 1-2 minutes before wiping or washing off. Apply a polish and protectant to the area. For use on interior surfaces, test on an inconspicuous area to check for colour-fastness.