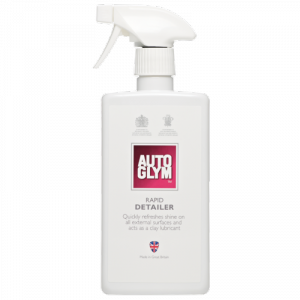 Autoglym Rapid Detailer
Description:

The Rapid Detailer is an excellent product for bringing your paintwork back to 100%.
Code:
AGRD500
Product Description:
The Rapid Detailer is an excellent product for bringing your paintwork back to 100%. When your car isn't quite dirty enough to justify a wash, but could be cleaner and brighter, the Rapid Detailer removes the dust and dirt and provides an additional layer of protection by adding to your wax or sealant. The ideal product for when you're displaying your vehicle, or simply want to keep the vehicle looking its best between washes.
Instructions: Spray sparingly onto the affected area, spreading and polishing with an Autoglym Hi-Tech Finishing Cloth.
Helpful Tips
Use Autoglym's Rapid Detailer as a lubricant for clay bar detailing.