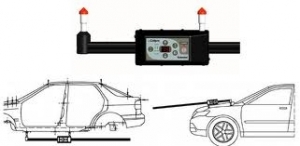 EzCalipre Electronic Measuring System
Description:

The Autorobot EzCalipre Electronic Measuring System is an advanced 2/3D measuring device for exact verification of vehicle chassis and body condition and for damage documentation.
Code:
ROBEZC
Product Description:
EzCalipre is an advanced 2/3D measuring device for exact verification of vehicle chassis and body condition and for damage documentation, developed by Autorobot Finland Oy. The new tram gauge is easily portable and movable, it can be used for 2/3D measuring in all kinds of surroundings, and therefore it opens up whole new scopes for vehicle estimation.

Features:
Applicable everywhere;
Modern data transfer;
Comprehensive damage estimation;
Wireless data transfer;
Control the whole vehicle body;
Consistent quality control.
Properties:
Height measuring based on reading vertical angle;
Works together with a computer (not without a PC);
WLAN connection between tram gauge and computer;
Datasheet and program update packets are available via internet;
Length: 1.6m, extension bar 1.4m, max. total length 3m;
Weight: 2.3kg, extension bar 1.2kg;
Rechargeable batteries;
5 hours operating time (depending on battery type).
Functions:

Measures distance between start point, end point (length) and height difference. Autorobot datasheet points are used as reference values;
Display can show length difference (vs. reference point), height difference (vs. reference point), start point number and end point number;
Point number display also indicates the selected vehicle side (L/R);
Necessary functions can be carried out from the tram gauge display unit itself: start point and end point selection, saving measuring results in the computer, and selecting display mode for example;
Warns for low battery. Battery status can also be shown on the display as a numerical value (0-99).