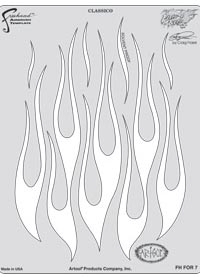 Flame-O-Rama \"Classico\"
Product Description:
The original Flame-O-Rama® was designed because of the deafening demand for it from the seething masses. Well, the seething masses are deafening again, so it is time for a sequel! Using the same rule of thumb, "no skulls", Craig has sent off a virtual plethora of designs for the work-release prisoners at the Artool Chemtox Labs to put into production. Just like the original series of flames, and all of Craig's other stencils, Flame-O-Rama 2® is made up of the same space-age solvent-proof polymer, that only the finest bathtub chemists can come up with. Throughout the years, Craig has learned that the more details and oddities in the design, make for fun antics with the computer guys. So with this in mind, check out some of the flaming monstrosities that you can now put into play with your latest graphic creation.