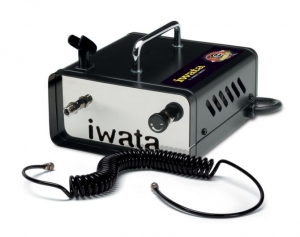 IWATA NINJA JET COMPRESSOR
Description:

The IS35 Ninja air compressor is compact in size, cloaked in black and so small it\'s nearly invisible. This Ninja-like compressor is the perfect choice for portable air.
Code:
COMIS35
Product Description:
IWATA NINJA JET COMPRESSOR
The IS35 Ninja air compressor is compact in size, cloaked in black and so small it's nearly invisible. This Ninja-like compressor is the perfect choice for portable air. It has a low maintenance oil - less single piston motor. It features working pressure adjustable from 10-18 psi, perfect for cosmetics, hobbies, models, bakery and general airbrushing. The Ninja is an entry level air compressor that runs continuously, it does not include a moisture filter which is recommended for extended compressor use. Suitable for those who require a compressor for infrequent or short period use.
Maximum Pressure: 30 psi
Air Flow : .15 - .30 cfm, 5 to 6 litres per minute
Air Flow @ 20 PSI: .30 cfm
Horsepower: 1/10 hp
Dimensions : 16.9 x 15.9 x 8.3cm
Noise Level: 40 db
Weight : 2.68 kgs