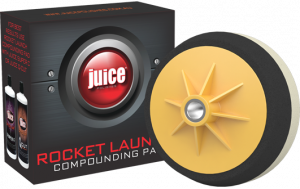 JUICE Rocket Launch Pad
Description:

The Juice Rocket Launch compounding pad is uniquely balanced and designed to eliminate swirl by helping the operator to finish with the buff pad in the optimum level position.
Code:
BPJLAUNCH
Product Description:
The Juice Rocket Launch compounding pad is uniquely balanced and designed to eliminate swirl by helping the operator to finish with the buff pad in the optimum level position. This is achieved by aligning the black foam wear indicator with the finished surface.
Pad size: 150mm, 14mm thread.
Related Products
People Also Purchased :