MAGNETIC FINGER
Description:

Anytime you need a grip on things, you need the Magnetic Finger. The powerful magnet on your fingertip allows you to hold or retrieve any small ferrous metal object with precise control.
Code:
mag-finger
Product Description:
GREAT FOR SO MANY USES!
For home improvements and repairs, car restoration, bicycle/motorcycle/watercraft maintenance, arts & crafts, fishing and more.

For automotive, marine, aircraft, general manufacturing and assembly of products.

Easy to use and store.

Numerous uses in the home, garage and workshop.

Complete projects faster and with less effort.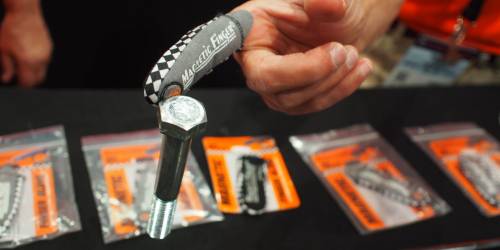 This concept developed into the unprecendented Magnetic Finger - an indispensable little tool for an endless variety of uses at home and in the workplace. Just slip it on your finger and you've got one incredible, multifaceted tool.
The powerful magnet at your fingertip allows you to hold and retrieve any small metal (ferrous) object with precise control, so you can complete tasks quickly and effortlessly.
Anytime you need a magnetic grip on things, you need BodyworX's Magnetic Finger. You'll be surprised at how often you'll reach for it.
(illustration purposes only)