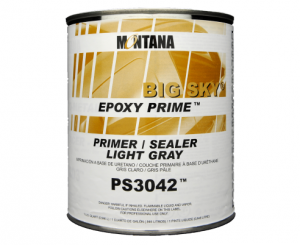 MONTANA® PS3042 EPOXY PRIMER LIGHT GRAY-G/Q
Description:

PS3042™ Epoxy Prime™ two-component, chromate-free epoxy is designed for use as medium fill primer that provides optimum adhesion with excellent corrosion protection for bare substrates
Code:
CA-PR3042.4
Product Description:
MONTANA® PS3042 EPOXY PRIMER LIGHT GRAY-G/Q
PS3042™ Epoxy Prime™ two-component, chromate-free epoxy is designed for use as medium fill primer that provides optimum adhesion with excellent corrosion protection for bare substrates. Epoxy Prime™ may also be applied as a sealer to ensure greater inter-coat adhesion, chemical resistance, and color holdout. PS3042™ is a full epoxy resin that utilizes a non-induction catalyst, used to increase productivity for automotive and fleet refinishing. If required, we offer a 3.5 VOC catalyst, used for fleet and light industrial applications.
CHARACTERISTICS
Excellent Corrosion and Chemical Resistance
Good Color Holdout
Chromate-Free
Optimum Adhesion Properties
Standard and Low 3.5 VOC Option
DOWNLOAD
People Also Purchased :