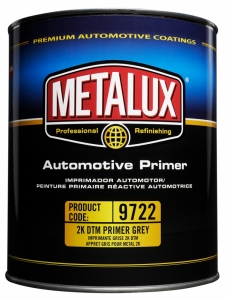 Metalux Direct to Metal (DTM) Filler Primer
Description:

Metalux� Direct to Metal Filler Primer (DTM) is a non-isocyanate, chromate-free filler that may be applied directly to larger areas of bare metal without the need of first applying an etch filler. When used as a medium or high build filler (surfacer), D
Code:
CA-PR9722.1
Product Description:
METALUX® 9722 Direct to Metal Filler Primer (DTM) is a non-isocyanate, chromate-free filler that may be applied directly to larger areas of bare metal without the need of first applying an etch filler. When used as a medium or high build filler (surfacer), DTM offers excellent corrosion protection on bare metal and OEM substrates, that easily sands by hand or machine.
CHARACTERISTICS
Mix 4:1:1
Excellent Corrosion Protection
Isocyanate Free
Superior Color Holdout
Easy to Sand
Eliminates the need of an Etch Primer
THIS PRODUCT CAN NOT BE SHIPPED VIA AUSTRALIA POST DUE TO BEING CLASSIFIED AS DANGEROUS GOODS.
PLEASE CALL US FREE ON 1800 656 645 FOR ALTERNATIVE SHIPPING OPTIONS AND MORE PRODUCT INFORMATION, OR CLICK ON THE ENQUIRY BUTTON BELOW TO EMAIL US DIRECT.