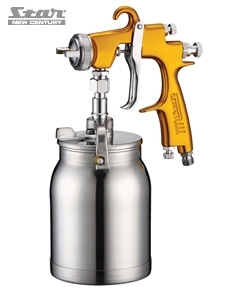 New Century suction feed spray gun 1.5mm (inc pot)
Description:

Fully drop forged body, lightweight body, exceptional balance. High transfer efficiency and ultra fine atomisation.
Code:
SGSS2000.15
Product Description:
V3 LVLP2000 SPRAY GUN SUCTION 1.5MM GOLD
EVOT 2000 Series Suction Spray Gun
Fluid Tip - 1.5 mm
Atomising Pressure - 19-23 psi
Air Consumption - 355-410 l/min
Fluid Output - 150-220 ml/min
Max Pattern - 230-270 mm
Min Recommended compressor - 10-12 cfm
Suitable for (*Guide Only check paint data sheet):
2K Basecoat, Enamel

V3 EVOT Series offers manufacturing excellence with its fully drop forged body, ensuring the highest possible quality cast. The gun offers outstanding user comfort with the combination of a light weight body and exceptional balance.
High transfer efficiency and ultra fine atomisation ensures cost savings and excellent results with low atomisation pressure from 15psi. With a large range of setups available EVOT guns are suitable for any high quality painting application including the new Waterborne Paint Technology. Models come complete with pot.