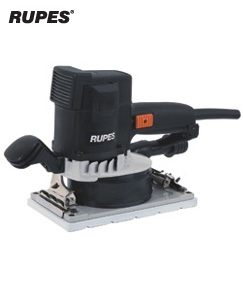 Rupes SSPF 1/2 sheet Orbital Sander
Description:

Heavy duty 1/2 sheet orbital sander designed for finishing jobs and for preparing various surfaces for priming and painting. Aggressive working action for high stock removal.

Code:
SSPF
Product Description:
ORBITAL SANDER 115x208 (5MM)
Speed: 6,000
Orbit Size: 5mm
Size(LxH): 295mmx220mm
Pad Size: 115x208
Weight: 3.6kg
Power: 350W

Sales Feature/Benefits:
Heavy duty 1/2 sheet orbital sander designed for finishing jobs and for preparing various surfaces for priming and painting.

Aggressive working action for high stock remov
al

A high performance sander due to a large diameter orbit and an offset gear drive that produces continuous torque under load.

Special air intake filter to ensure clean cool air on the motor which reduces maintenance and extends service life.

Fitted with connection for vacuum dust extraction.

Excellent balance and front handle grip for ease of operation and control.

Quality strong paper clamps with replaceable rubber insert for easy, quick and secure replacement of paper.

It is designed for aggressive work such as heavy stock removal in Woodworking and Panel Beating industries.
Part Number: SSPF