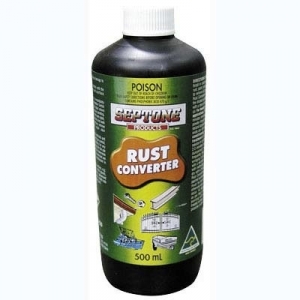 Septone Rust Converter - 500ml
Description:

Rust Converter is a concentrated phosphoric acid based rust converter and is used as a pre-painting treatment for converting surface rust (iron oxide) into iron phosphate, which forms an ideal base for further protective coatings
Code:
RC500
Product Description:
Rust Converter is a concentrated phosphoric acid based rust converter and is used as a pre-painting treatment for converting surface rust (iron oxide) into iron phosphate, which forms an ideal base for further protective coatings. Rust Converter may be used on rusted galvanised roofs or surfaces, ornamental ironwork, fencing, structural steel, automotive panels, or rusted nuts and bolts and hand tools.

THIS PRODUCT CAN NOT BE SHIPPED VIA AUSTRALIA POST DUE TO BEING CLASSIFIED AS DANGEROUS GOODS.
PLEASE CALL US FREE ON 1800 656 645 FOR ALTERNATIVE SHIPPING OPTIONS AND MORE PRODUCT INFORMATION, OR CLICK ON THE ENQUIRY BUTTON BELOW TO EMAIL US DIRECT. PLEASE SUPPLY YOUR POSTCODE AND STATE.