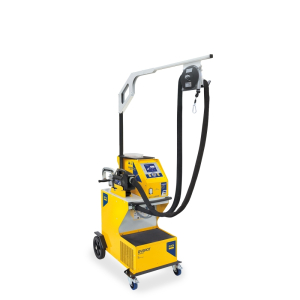 GYS EVOLUTION PTI S7 AUTOMATIC SPOT WELDER
Description:

The GYS Evolution PTI-s7 (6m) Automatic Spot Welder is the latest in automatic spot welding technology and has recently been approved by Mercedes Benz along with many other manufacturers.

Code:
MWYGSPTI
Product Description:
The GYS PTI Evolution, liquid cooled, inverter automatic Spot Welder is a real advancement in the field of automotive spot welding equipment, with a C Gun that integrates the latest technologies. This machine is the ideal answer to the welding requirements of all high strength steels like UHSS and Boron. This GYS Evolution s7 also brings a solution to limited power supply issues, as it can operate with 16amp and a 25amp fuse.

The GYS Evolution PTI-s7 (6m) Automatic Spot Welder is the latest in automatic spot welding technology and has recently been approved by Mercedes Benz along with many other manufacturers.

STANDARD FEATURES:
- Liquid Cooled arms to the welding tips
- 7 sets of welding arms
- 14,500 amps of welding current
- 550 daN of clamping force
- SD card for weld quality reporting
- Integrated inverter C Gun with 6 meter lead

Contact us today for help from our specialist with your next purchase.

Please note: We can only sell this item within Western Australia.