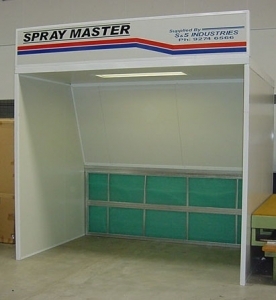 The 'SPRAYMASTER' Open Front Spray Booth
Description:

The SprayMaster open front spray booth is the most popular option of spray booths in the range. They can be manufactured to virtually any configuration to fit a broad range of finishing requirements.
Code:
OFSB
Product Description:
The 'SPRAYMASTER' Open Front Spray Booth
The SprayMaster open front spray booth is the most popular option of spray booths in the range. They can be manufactured to virtually any configuration to fit a broad range of finishing requirements; booths range from small bench type to booths capable of painting the largest mining equipment.
Booths are constructed using double skinned panels for all the walls and roof. The panels are lined both inner and outer with 0.6mm steel and surfaces are coated with 25% gloss Off White polyester. When lighting is required, lights are flush mounted into the roof and/or the walls of the booth behind laminated safety glass, and have external access for easy maintenance.
All booths are supplied with exhaust fans which have EXE rated direct drive motors and 12 blade adjustable pitch fan assemblies
SPRAYMASTER OPEN FRONT SPRAY BOOTHS CAN BE CUSTOM MADE TO SUIT YOUR INDIVIDUAL REQUIREMENTS