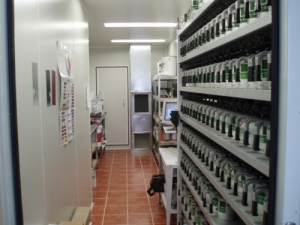 The \'ZODIAC\' Paint Formulation Room
Description:

Zodiac Paint Formulation rooms can be custom made to suit your individual needs.
Code:
Zodiac Paint Room
Product Description:
The Zodiac paint mixing rooms are designed to create the ideal safe environment for storing, mixing and matching paint.
Ventilation is via a 400mm adjustable pitch fan directly coupled to a flameproof EXE rated motor and the room runs at negative pressure.
Bright room illumination is via strategically placed fluorescent lights. Each light unit is mounted behind sealed laminated safety glass and light access for servicing is carried out externally for easy access.
50mm thick white insulated panels are used in the construction of the paint room and all flashings are powder coated white.
Paint rooms are usually custom made to suit your requirements