The 'ZODIAC' Semi Downdraft Spray Booth & Baking Oven
Description:

The Zodiac Semi Downdraft range of Spray Booths and Baking ovens are built to the very high quality standards of our Zodiac Full Downdraft Baking Oven.
Code:
sdd
Product Description:
The 'ZODIAC' Semi Downdraft Spray Booth & Baking Oven
The Zodiac Semi Downdraft range of Spray Booths and Baking ovens are built to the very high quality standards of our Zodiac Full Downdraft Baking Oven. It is designed to sit on the existing concrete factory floor and airflow direction is from the top front of the booth to the bottom or rear of the booth.
This style of booth is extremely popular in workshops where heavy vehicles or items on trolleys are to be painted in the booth as the problems of ramps and floor grid load limitations are eliminated. It is also a more cost effective alternative to purchase than the full downdraft version.

The Zodiac range is built with style, durability and performance with extremely low maintenance required.
The Zodiac Fully & Semi downdraft baking ovens are a fully insulated combination spray booth/baking oven designed, manufactured and serviced in Western Australia since 1983.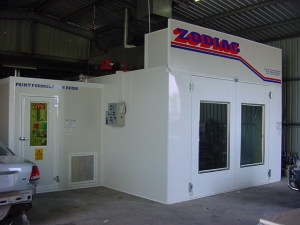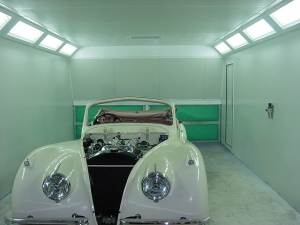 Related Products